I got the chance to catch up with the annoyingly talently Hunter Shea at HorrorHound Weekend in Cincinnatti last month. I thought I was working hard until I talked with him.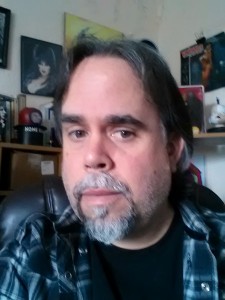 RRJ: It looks like you have three works in line for publication this year. In this instance, busy hands have been the devil's workshop. When do your latest horrific tales debut?
HS: The last couple of years have been very busy, gearing up for a big 2014. My latest ghost novella, The Waiting, just came out as an ebook on April 1st (and that's no joke!). My first thriller, The Montauk Monster, will be out in paperback the first week of June, quickly followed by Hell Hole in July. All work and no play…
RRJ: That's a killer cover on your new novella. Tell me about The Waiting.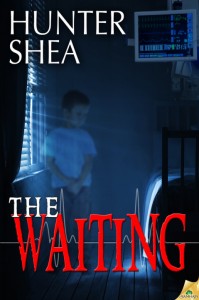 HS: This is my first tale based on a true haunting that continues to this day. It centers around a newlywed couple whose bright future is turned upside down when the bride collapses on her wedding day. She survives a near death illness and is brought home on life support for her husband to care for her. Once in the house, her husband begins to hear and see strange things, the most terrifying of all being the full-bodied apparition of a young boy. The boy is fixated on his ailing wife as she fades in and out of consciousness, unable to speak. Who is the boy, and what does he want? Is he a protector of life, or a harbinger of death? To know that these people actually experienced this, and still do, is both terrifying and intriguing. I say intriguing because of the way it shows us that there is life after death.
RRJ: I always got creepy vibe wait out on Long Island's East End. Tell me about Montauk Monster.
HS: This was a fun one to write. It's based on actual strange cryptid creatures that have been washing up on the shores of Long Island for years. It's set in Montauk, a popular tourist destination at the tip of the island. A series of brutal murders have cast a shroud of fear over the town. The police think it may be the work of wild animals, or a savage human serial killer. Oh, but it's much more than that. Those strange creatures are real, and making their way to Montauk – alive! With government conspiracies, Plum Island secrets let loose and wall-to-wall terror, The Montauk Monster will make the perfect summer read – especially if you're on a beach on Long Island.
RRJ: I got to pre-read Hell Hole and it's horror at its best. The touch and feel of the Old West is perfect.
HS: My very western, Hell Hole takes place in an actual abandoned mining town in Wyoming in 1905. Nat Blackburn is a former cowboy, Apache tracker, Rough Rider and New York cop, sent to Hecla by President Roosevelt to find out of tales of gold are true. The only problem is that anyone who has ever gone there to search for it disappears off the face of the earth. With his companion Teta Delacruz, a Dominican gun for hire, Nat rides into the withered town. There is something in the mines, but it isn't gold. He and Teta will come across ghosts, black eyed children, wild men and demons straight from hell. Some places are better left abandoned. I can guarantee riders a hell of a wild ride.
RRJ: Your home turf of Long Island and New York City show up in a lot of your work. Is there something that inspires horror in these locations for you?
HS: Long Island is home to a host of real horrors. From the mystery of Plum Island to widespread cancer cells, Joey Buttafuoco and serial killer Joel Rifkin, there's inspiration everywhere. It's so close to New York City but when you drive the length of the island, it feels so remote and removed from big city life. There's an edge to Long Islanders, a subdued toughness that makes for great characters.
RRJ: What kind of research did you have to do setting Hell Hole in a different part of the world and in a different time?
HS: Watch a ton of westerns. Well, I've done that all my life. I did a lot of reading on the Rough Riders and cattle trails. I was looking for a locale for the story and Googled 'abandoned mining towns'. I made a list of five and found Hecla, Wyoming to be the most fascinating. Then I was off to the library to get everything I could get about Wyoming, from travel guides to history books. Knowing my characters were going to have to take the train from NY to WY, I even did a lot of research on the Union Pacific line and how towns grew up and faltered along the line. There's a danger of getting lost in research and information overload. It was hard to pull myself away and get to writing.
RRJ: I really enjoyed your self-published short story collection, Asylum Scrawls. What made you write short fiction for a change?
HS: I started writing short stories 18 years ago. A very big agent told me at a writers' conference that it was the best way to hone my craft. So, I settled my butt in my chair and cranked out as many horror shorts as I could. Most of them will never see the light of day, but they were all a necessary part of the process. I wanted to publish something in time for Halloween, and the name Asylum Scrawls just popped into my head. It's chock full of old and new stories, along with one by my friend, Norm Hendricks. I plan to do another edition in October this year as well, with a few more up and coming authors spreading the terror. I'd like to use Asylum Scrawls as a vehicle to highlight new talent every Halloween season.
RRJ: Covers, unfortunately, can make a book.  For the benefit of other aspiring self-published authors, tell me about the process of getting your excellent cover art for Asylum Scrawls.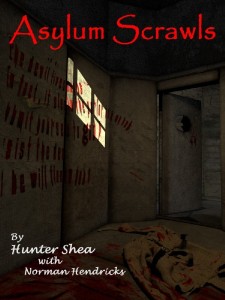 HS: I'm very fortunate in that my best friend (Mike Chella) is an artist who has been studying computer animation. He's helped me in the past coming up with graphics for other stories and books. Mike jumped at the chance to do the cover. Man, did he regret it. Apparently, no one had ever tried to render a straight jacket in CGI before, so it took way longer than he or I ever thought it would. For that, I apologize. But he has perfected something that no one else has done. And he came up with a kick ass cover. I promised him the next one would be much easier.
RRJ: Forest of Shadows and Sinister Entity follow the story of the same character, though both works completely stand alone. Tell me about her and why she's driven you to write about her twice.
HS: You know, I never wrote Forest of Shadows with the intention of there being a sequel. But there was something about the way it ended, with Jessica going to the site of her father's death when she was years away from his death that got me thinking. What would become of a girl who had witnessed what she had? Would she run from or to the paranormal? How would her experience inform her personality and life decisions? I just had to explore that, and voila, Sinister Entity was born. I've enjoyed writing about Jessica so much, I just finished a third book in the series titled Island of the Forbidden. It will be out in January, 2015. Jessica is one tough chick. Don't tell her I called her a chick. She'll kick my ass.
RRJ: I can only read the work of most authors, but I can also watch you. Tell me about your Monster Men podcast and where you see that venture heading?
HS: My buddy Jack and I are of a like mind, especially when it comes to all things horror. We started the podcast as a way to promote Forest of Shadows, and just have some fun, letting people in on our beer infused conversations. Honestly, I thought we'd go it a year and it would fizzle out. We're now about to enter year three and it continues to grow. We're branching out this year into interviews with authors, directors and paranormal enthusiasts. We have some huge surprises in store, so stay tuned. Aaarrrrggghhhh!
RRJ: Do you wife and daughters treat you any differently now that you are summoning tales of demons and skunk apes on a regular basis?
HS: They still look at me as a madman that's escaped an institution. They've been so supportive every step of the way, giving me space and quiet time to work and encouragement when I'm feeling low. Now that my girls are teens, they're helping get the word out and coming to signings and appearances. I love my family, and it's important to have them by my side. I'm told every day how proud they are of me, and that's better than any royalty check.
Get more Hunter at www.www.huntershea.com.
Enter a giveaway for Hunter's book here.