July 18th, Kindle announced Kindle Unlimited. With this new service, all works enrolled in Kindle Select would be available for anyone to read at the monthly rate of $9.99. This is the Netflix model applied to books. Authors would be compensated by a payment from a central fund for each time the book was viewed, and the viewer read more than 10 % of it. There was much wailing and gnashing of teeth throughout the Internet. The Evil Empire was taking one more step that would destroy authors' livelihoods by making books available without purchase.
Well, it's been a month, so I thought I'd see if the naysayers were right. Admittedly, a month isn't a long time, but I'd certainly see of sales had driven off a cliff.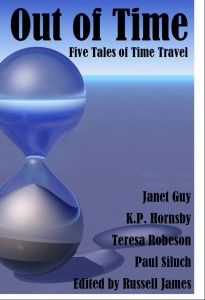 I looked at the numbers for OUT OF TIME. This collection of time travel stories from the Minnows Literary Group is a benefit for Doctors Without Borders. It has been out for over a year and after an initial big spike, now sells a consistent, stable number of copies each month, enough to keep it on the Amazon Top 100 Sci-Fi anthology list every week. It has always been Amazon exclusive and Kindle Select.
That means it was part of the Kindle Lending Library (KOLL). Here a Kindle owner could offer up a virtual copy of the book to read to any other Kindle owner. Again, the author was paid out of a pool of money set aside to compensate for each time that happened.
Here's a sales chart of relative sales over time for the last few months so you can see the trend. The Y axis is just a reference number. Sales are very stable.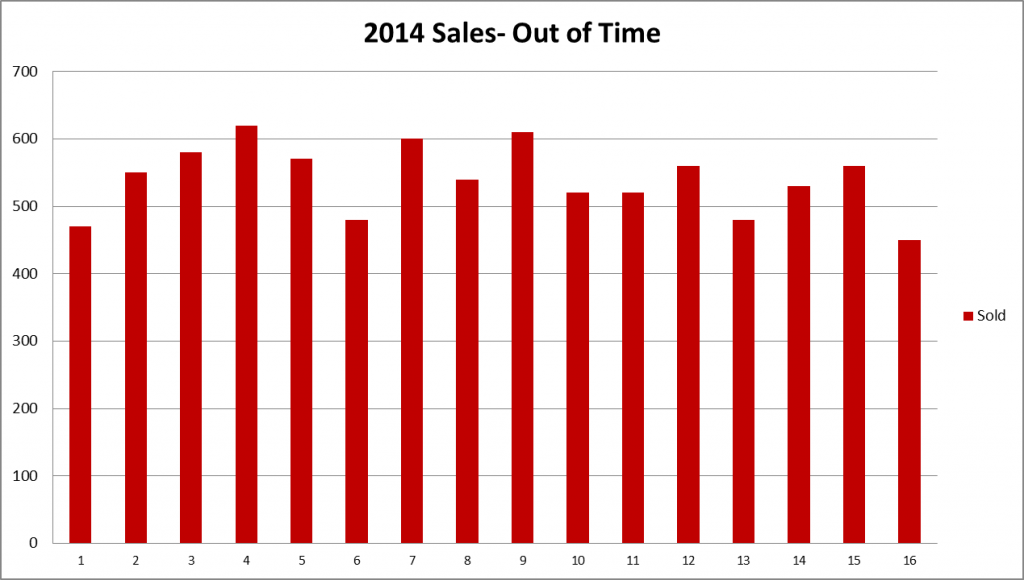 Now let's see what happens once the apocalypse of Kindle Unlimited arrives. This graph adds KOLL and KU units moved each week in blue. A big jump happens as soon as KU kicks in. Note that borrows of any kind are a small percentage of total units moved.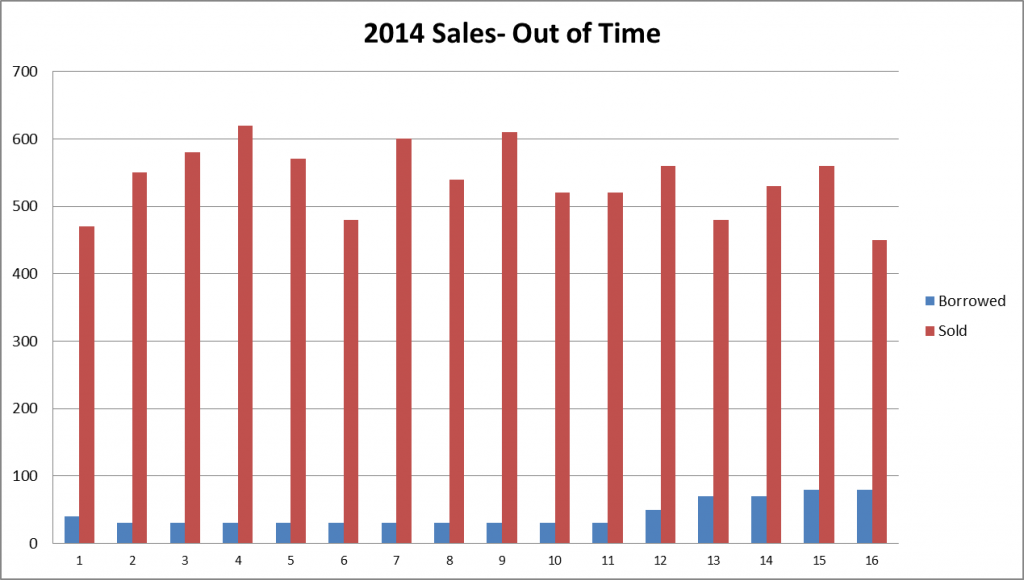 Now here's the ratio of sales to lending for the last seven weeks. The ratio remained relatively constant all year at .05 under KOLL, and then triples after KU starts.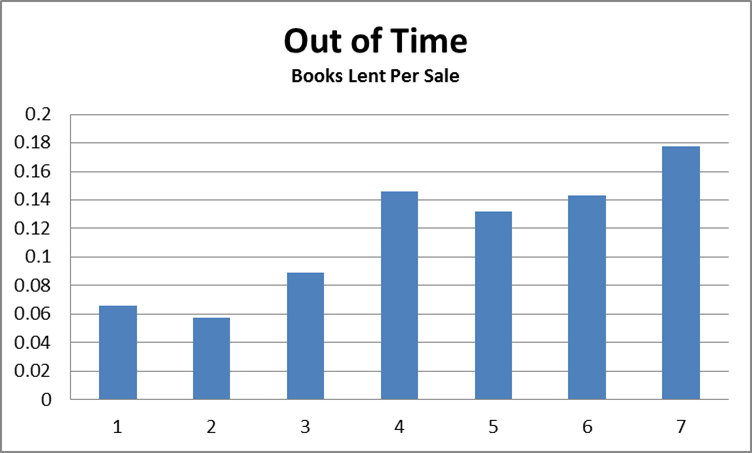 So KU, even with the limited impact of only early adopters to the system, has tripled the number of time OUT OF TIME has been borrowed. But what has not happened is any corresponding decrease in sales. KU and sales are not a zero sum game.
Why is that? Because these two venues seem to serve different markets, with apparently minor overlap, the same relationship between library users and book buyers, or between Netflix watchers and movie goers, or between people who rent a jet ski and people who buy one. It looks liket what Amazon has done is open a new revenue stream for authors without pinching off the old one.
The only variable in the equation now is that pool of cash we all get paid from. As far as I know, it is disbursed per unit moved without relation to cost. So Stephen King's $11.99 MR. MERCEDES earns as much as my $0.99 TALES FROM BEYOND, the only time the two of us will ever be considered equals. If the payout was a dollar per event, Mr. King would no doubt be taking a loss and lament it. But compared to my 33 cent payout on a sale, I would cheer. In fact, under KOLL, OUT OF TIME has always made more money per lend than per sale. Doctor's Without Borders should praise the parsimonious. The risk here to authors is that Amazon will get skimpy with that fund for payouts.
So what if they do? Remember, if these numbers hold true, it is not a zero sum game. The $1.00 you get through KU isn't in place of a $1.25 from a sale. It is in place of getting nothing. But if an author is unhappy with the revenue per unit, he can uncheck the KU box and opt out. It probably won't hurt sales.
I'll watch these numbers over the next five months and post another update. We put out a second time travel anthology before the end of the year and I'll post what impact KU appears to have on a new release.