Here's how writing a novel works, at least for me. I spend about a year creating it. A first draft, a second draft, then a third draft after another round of revisions from Beta readers. Then it goes off to my publisher. With luck my editor buys it for publication sometime in the next year.
So a few months before it gets published, I get the copy edit version back. This has notes and correction from my editor, the amazing Don D'Auria, and a copy editor. If I did well with the first three drafts, these are usually minor continuity errors, typos, and a few review lessons on embarrassing grammar points I'd forgotten. This my last chance to get the whole thing right. Whatever goes back to Samhain from here gets sent out to the rest of the world.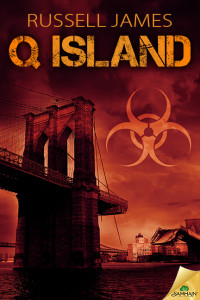 This week I got back Q Island which releases in June. In the story, Long Island, NY becomes a quarantine zone as a plague breaks out. The victims become ultra-strong psychopaths, bent on murder. The island goes to hell. One woman, Melanie, finds out her son is immune, and this is the story of her escape attempt.
I could just check and approve changes and corrections, but instead I decided to re-read the whole thing. What am I finding?
First, the copy editor is apparently a much bigger fan if commas than I am. I swear the whole thing is two pages longer now.
Second, I really like these characters. The heroes, the villains, the ones in between. Honestly, after beating the thing to death for twelve months, I never wanted to see the book again. But it feels good to visit with Melanie once more, feel the strange combination of love and frustration she experiences with her autistic son. I missed old Samuel, the GP doctor who ends up treating Patient Zero+One, and watch the spread of the epidemic through his eyes. But the bad guy, Jimmy Wade, now he's a trip. A nickel-and-dime crook and perennial loser, he gets infected and instead of going psychotic, he goes telepathic, though a little psychosis still develops. What fun watching him grow into his role as Long Island's new crime lord.
In a few months, Q Island will hit the stores, and the rest of you will get to meet these friends pulled from my subconscious. I think you'll like them, or hate them as need be. I'm sure that you'll enjoy Melanie's desperate attempt to get herself and her son off Long Island before Jimmy Wade and his thugs or the growing army of the infected can get to them. I mean, I'm enjoying reading it. And I know how it ends.