It is winter, and one of the coldest horror novels I've ever read is Brian Moreland's Dead of Winter. I read it in the summer in Florida and had to sit outside in the sun to stay warm. I recommend this one as a fireside read. In daylight. I thought I check in on Brian and see what he's been up to.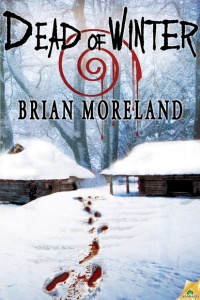 R: I've read all you novels and they are outstanding. Did you write the short stories in your collections between novels or as breaks during writing the longer works?
B: Yes, after I finish a novel, which takes about year or two to research and write, I need some time before starting another long novel project. That's when I write short stories. I'm working on a collection right now that consists of stories that I've written over the years. Some I've published and some will be new stuff.
R: You've announced that you're currently working on a horror short story collection. What made you decide to put a collection together?
B: I recently read several of Clive Barker's Books of Blood collections. That not only inspired me to return to writing short stories, it also gave me the idea to take my favorite stories I've written over the years and compile them together as a collection.
R: You do all your own cover design, tell me about that process.
B: When writing a book, I start to get a sense of what I'd like to see on the cover. Usually it involves the setting where the story takes place or something that symbolizes the evil of the story. For The Witching House, it was the abandoned rock house that I had envisioned, with bloody witch symbols painted on the boarded windows.
For The Girl from the Blood Coven, I thought it needed to feature the mysterious girl covered in blood who wanders out of the woods.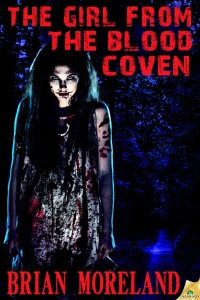 For The Devil's Woods, I chose the entrance to the forbidden forest that borders the haunted Cree Indian reservation. That's where people keep disappearing.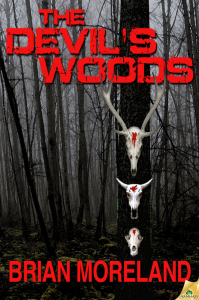 And for The Vagrants, I decided to feature the subway tunnel where a cult of homeless people called "The Seekers" live and do sinister things.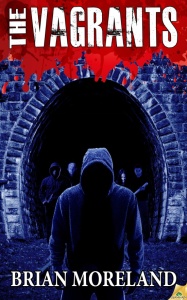 I create these covers using Photoshop. All four of these covers are composites of images that I found at a stock photo site. I'll search through hundreds of stock photos until I've found images that fit the cover idea I have in my head. I'll find a background, like a forest or urban setting, and then composite individual images on top of it. For instance on The Vagrants cover above, I had found a photo of a subway tunnel and then individual shots of the creepy people and positioned them all in place with the shadowy hooded character in the foreground. The hooded character represents the mystery of the Seekers. The bald guy in the background with the tattooed face represents their cult leader, Mordecai. Then I play with color schemes, adjust the light and shadow, then add the title and my name. I originally had real dripping blood behind the title, but my art director adjusted the color and texture, along with the title font. When building a multi-layered cover composite, I'll spend hours trying out different looks until I design a version that I'm happy with. It's a lot of fun creating visual art for a story that I've written. I used to design these covers just for my own amusement and to show my editor what I think the cover should look like. It just worked out that the last few covers my publisher liked them and decided to use my versions.
R: What was the oddest inspiration for one of your novels?
It would have to be when I was writing Dead of Winter. I had been stuck on the book for some time. I was living in Dallas, Texas and ready for a career change. So I moved to Hawaii to live a year and a half on the island of Maui and just write fiction. I had just sold my first novel Shadows in the Mist to Berkley-Penguin, my first book deal, and was feeling on top of the world. While on Maui, nearly every day I went to the beach or hiked to a waterfall. Just living in the moment, I felt very inspired to write. My creative juices were flowing. Then I started getting visions of how I could get past my stuck point with Dead of Winter and jumped back into writing that novel. The irony was the story is about a fur-trading fort in Ontario, Canada that's trapped in a snowy blizzard. While conjuring scenes with frost-bitten characters and below freezing temperatures, I was sweating my ass off in the tropical heat of Hawaii. Every day was bright and sunny, while my characters endured the hostile winter. While I may have gone a far distance from Canada to write my second book, it was that free-spirited time in Hawaii that inspired me to finish what has become my favorite novel to date.  
R: Do you have a personal favorite part from Dead of Winter?
B: There are many scary scenes in Dead of Winter I enjoyed writing. A couple come to mind. The first is near the beginning of the book. In Montreal, Father Xavier and his apprentice go down into the underground tunnels beneath Laroque Asylum to exorcise a demon from a prisoner known as the Cannery Cannibal. That whole scene gave me chills when I was writing it. Next would be the scenes at Fort Pendleton in Ontario, when the demon plague begins to spread to the fort colonists and animals and Inspector Tom Hatcher has to do detective work to solve the mystery. The fact that he is desired by two women, both belonging to his boss, Avery Pendleton, added some fun when writing those characters and subplots.    
R: What else is coming down the pike from Brian Moreland?
B: I'm currently working on that short story collection that I plan to publish at some point this year. I'm also working on a novella called The Darkness Inside that will either be a part of that collection or a standalone eBook. Then, of course, I'm plotting my next novel but it's too soon to reveal anything about it. For booklovers who prefer audio books, I did learn from my publisher, Audio Realms, that Dead of Winter, Shadows in the Mist, and The Vagrants will be releasing as audio books this year. Right now, The Devil's Woods and The Girl from the Blood Coven/The Witching House are available as audio books.  
R: You share your skills with other authors. Tell me about some of the services you offer.
B: Yes, when I'm not writing novels and short stories, I provide professional services to other writers. I consult over the phone, edit manuscripts (both fiction and non-fiction), design book covers, format the interior layout for print books and format ebooks. I also help authors self-publish their books. My website is http://www.MorelandCreative.com.
R: What upcoming cons can fans expect to see you at?
B: As of now, I don't have any signings lined up at the horror cons. I'd love to be at HorrorHound Cincinnati in March, but that will be a game time decision. In May, I will most likely attend Texas Frightmare Weekend in Dallas as a fan, since I live in Dallas. You should come visit Dallas for Texas Frightmare some time. It draws a few thousand horror fans and is loads of fun. Thanks so much for having me as a guest on you site.
About Brian Moreland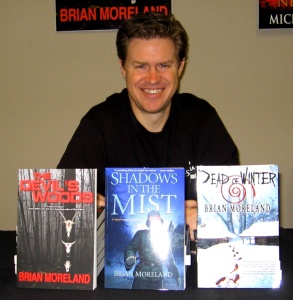 Brian Moreland writes novels and short stories of horror and supernatural suspense. His books include Dead of Winter, Shadows in the Mist, The Girl from the Blood Coven, The Witching House, The Devil's Woods, and The Vagrants. Brian lives in Dallas, Texas where he is diligently writing his next horror book.
Website: http://www.brianmoreland.com/
Follow on Twitter: @BrianMoreland
Like Brian's Facebook page: http://www.facebook.com/HorrorAuthorBrianMoreland
Brian's blog: http://www.brianmoreland.blogspot.com
Now available in audio book: The Devil's Woods and The Witching House.