I just finished the latest release from the duo who publish under the name Maynard Sims. It's called A PLAGUE OF ECHOES and it is fantastic. Here's a little Qand A with them.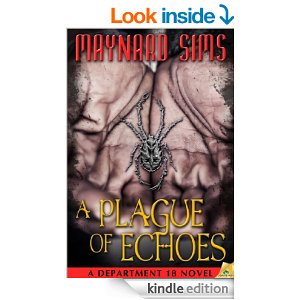 1.  Who are you, how long have you been writing, and how long have you been with Samhain?   
We are Maynard Sims – who is really Len Maynard & Mick Sims writing together, as we have done for the past forty years. This (A Plague Of Echoes – Department 18 series book 4) – is our fourth book with Samhain horror – but our eighth for Don. We have two more scheduled next year. Our first was 2012. We also write erotic romance, and crime novels under different names, as well as ghost writing under various names.  
2.  Do you write full time?  part-time?  for an hour at a time in the middle of the night?  
We write full time now but won't claim it is our main source of income by a long way. We have both retired from long time day jobs so we have all day to write when we are not gardening, looking after grandchildren, and just dealing with every day life. 
3.  Are you doing anything special to celebrate your newest release?  
Spending the day with our respective granddaughters is a highlight of a week for both of us.
 4.  Do you do any blogging?
We blog on our website www.maynard-sims.com  and on WordPress 
5.  Where can we find you on the web?  (Website, FB, Twitter, Pinterest, etc…) 
Twitter @micksims
Facebook – search Maynard Sims as well as Len Maynard & Mick Sims separately
6.  What are you working on next?  Any projects coming up?   
Department 18 book 5 – Mother Of Demons – is out next summer and before that we have a standalone ghost story – Stillwater – out in the spring, both from Samhain of course. Recently sent a new novella to Samhain too. Working on a crime thriller, a romance, and a ghost writing project at present, as well as a few short stories. 
7.  What's the most interesting thing you've learned/place you've gone for research? 
Research has taught us both such a lot about subjects we never knew had any fascination at all. Each book has a backdrop of a profession, or area, or something that needs to be explained in full. Detail helps with atmosphere. 
8.  Will you go to any conferences?  Where can your readers meet you in person?   
Dread conferences I'm afraid, although WHC in Chicago 2002 stands out as that was where Mick met Don for the first time and our novel writing career took off. 
9. How's the summer going?  How can it be August??  Any fun or are you writing, writing, WRITING?! 
Len has been gardening in the unexpected UK heat. Mick has been to Lanzarote which was hot but windy. A few hours sitting in the garden is a rare pleasure. The UK has some irregular weather but summer's seem to be getting warmer and longer recently. 
10. Is your newest a stand-alone?  Or part of a series?

Department 18 books are – Black Cathedral, Night Souls, The Eighth Witch, A Plague OF Echoes and Mother Of Demons, so far. Different characters come and go although there is a core of characters that are evolving throughout. We've written a screenplay based on scenes from the first two books and that's out with a production company right now so fingers crossed. We set up a whole back story for the Department – history going back decades, photos, that kind of thing. It had its own website until it was hacked and so now have the D18 pages inside our own website.

http://www.maynard-sims.com/contents/DEPARTMENT%2018.htm
We've done interviews where we pretend we are being pursued by the government forces, and there are 'case files' listed on the site that appear to be true life. It's all good fun.
Here's the teaser of A PLAGUE OF ECHOES
The clock is ticking 
In London, Department 18 Chief, Simon Crozier, is brutally stabbed and left for dead. Billionaire businessman, Pieter Schroeder, has laid his first card in a deadly, high-stakes game. The secret past of Department 18 comes back to haunt the present day. Whether Crozier lives or dies, whether Department 18 has a future, is in the hands of a few. In a battle against an evil both ancient and modern, Robert Carter and his team has to play the winning hand, where immortality is the ultimate prize, and death to those who lose.
'absolutely enthralling, with more twists and turns than a roller coaster' 
http://www.nightowlreviews.com/v5/Reviews/Hitherandthee-reviews-A-Plague-Of-Echoes-by-Maynard-Sims
'suspenseful and occasionally surprising' http://www.dondammassa.com/R3C2014.htm
The YOUTUBE video – http://youtu.be/m-ufvMnhyWo