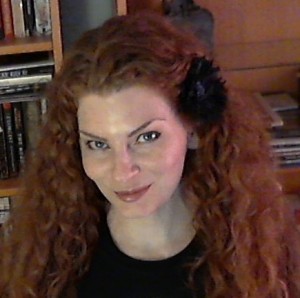 Tell me a bit about the story in your recent release Ink?
 The main character, Jason, makes an impulsive decision to get a griffin tattoo after the abrupt departure of his wife. There are signs that all things are not quite what they seem, but he ignores them. He's the sort of person that doesn't see the truth even when it's staring him in the face. I think most of us know people like that.  He's a little…clueless. Plus, everyone knows monsters aren't real, right? 
After the tattoo heals, Jason starts hearing strange noises in the night, finds a severed cat tail in his yard, and a few other things that hint at what's going on. When he goes back to the tattoo shop to confront the tattoo artist, there's a brick wall where the door should be. 
And then things get worse.
How long did it take you to write this book? 
The first draft took forty days, but it took many months and many edits before it was ready for anyone else's eyes.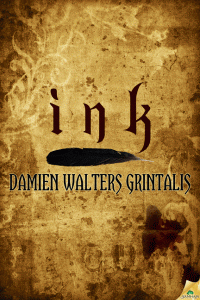 Having met you in person, you won't be able to avoid the standard question about the story of your own tattoos. 
I have six so far, four of which were inspired by writing. I have Once upon a time on my right inside forearm, inked not long after I signed with my first literary agent. On my left inside forearm, I have A paper tiger to swallow me whole, to commemorate the sale of Ink. On my inside right wrist, I have a curlicue that represents writing itself, and my newest, on my right ankle, is an homage to Poe – Nevermore. 
The non-literary tattoos are a Celtic knot between my shoulder blades and a Celtic dragon on my lower back. 
You have a great list of favorite books on your website.  Pick any two and tell me what specifically out them there. 
Many of them are very well known so I think I'll pick the two most obscure. Both were found on trips to the bookstore when I had nothing in mind to purchase. I Who Have Never Known Men by Jacqueline Harpman is a dark dystopian set on a barren planet where women are kept in underground cages. It is one of those books that leaves you with many questions unanswered and lingers in your mind long after you turn the last page.
Pluto, Animal Lover by Lauren Stover is a dark, quirky book about a strangely endearing psychotic man named Pluto Hellbender Gerome. It's dark and disturbing, yet whimsical. If you don't mind your whimsy with a serrated edge, that is. 
While this is your first published novel, you have an impressive list of short story sales. 
Where can a new reader sample to get a taste of your style?   
Like Origami in Water  Published in Daily Science Fiction 
They Make of You a Monster  Published in Beneath Ceaseless Skies 
Describe the route you took to become a published author? 
I wrote lots of poetry, vignettes, and many unfinished novels over the years, including one that fizzled out close to the finish line at 86k. A few years ago, I decided I needed to break through that barrier and finally finish a novel. So I did. Then I wrote another one. Then I wrote Ink. I also started writing short stories at about the same time.
Do you have somewhere or some specific time where you write best? 
I've converted a bedroom in my house into an office/library that I call the Wordcave. I wake up, fetch coffee, let the dogs out, and then retreat into my office. I usually putter around on Facebook and Twitter while the coffee works its magic, then disappear into the world of make-believe. The number of hours I work varies, but I write every day. 
What's coming next from Damien?
 I have several short stories forthcoming in Strange Horizons, Lightspeed, Apex Magazine, and others, and my agent and I are working on edits to another novel. While still technically horror, it's of a much different flavor than Ink. A bit more Gothic creep, I think.
You've written short and long fiction.  Which do you prefer writing and why? 
I enjoy writing them both but for different reasons. In my mind, a novel is like a photo album and a short story is a snapshot. Short fiction also gives me the option to write in a myriad of styles and genres, whereas all my novels fall in the horror category. At least thus far. 
The intro to INK apologizes for taking artistic license with Baltimore.  Did the location inspire the story or did the story seem a natural fit for the location? 
I live in Baltimore so it was definitely the whole write what you know, and Baltimore itself has a rich history so it's fun to be able to include bits and pieces of the real in my paper worlds.
Does creativity run in your family? 
Yes. My father is a retired musician who also writes, and my brother writes and plays music as well. 
Tell me about a particularly scary moment in your life. 
How about a succession of tiny terrors as opposed to one single moment: The basement of the house I grew up in was unfinished and anytime I had to go downstairs, I was terrified that something was hiding in the furnace and would creep out and grab me, and then of course I'd run like hell back up the stairs because I was convinced it was coming for me.
 As a child, what did you want to be when you grew up?  
As a young child, I wanted to be a dinosaur or Ultraman. (No joke.) Once I got a little older, I discovered a fondness for writing. I always dreamt of becoming a novelist, but never thought it would truly happen. 
Do you have a Website or Blog?  How can fans get in touch with you? 
www.damienwaltersgrintalis.com is my official website, www.dwgrintalis.blogspot.com  is my blog, and dwg@damienwaltersgrintalis.com is my email address. I'm also on Twitter @DWGrintalis.
 Amazon Links:  Ink – Kindle:  Ink – Paperback