In 2015, Samhain Publishing released my post-apocalyptic horror novel Q Island. At the time, editor Don D'Auria, a legend in horror publishing, added a note to the acceptance letter reading "This could be big." While he had been enthusiastic about my five previous novels, this was the first time he'd been predictive.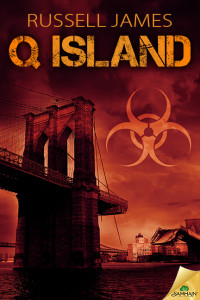 The cover proof came in and it matched my design request, except better. Even I wanted to buy the thing, and I knew the ending.
Q Island released with a starred review from Publisher's Weekly, being selected as the Editor's Pick of the month for Famous Monsters of Filmland magazine, and garnering a series of excellent reviews from some trusted, picky review sites. It was advertised at SXSW and other major markets. I thought Don's crystal ball had been right. This was going to be big.
Then it wasn't.
For whatever reason, it didn't hit public consciousness. Maybe it was an issue being from a small press, maybe it was just bad luck. But when I sold the book at horror conventions, I would sell out the first day. People saw the cover, came to check it out, and then frequently cut me off mid-sales pitch to buy it.
When Samhain folded their horror line, I bought the cover art. Rather than farm the book out as backlist to another publisher, I opted to re-release it myself. It couldn't hurt, plus I could opt into Kindle Unlimited, which my publisher could not. I ran a 99 cent promo and hoped for the best.
Instead I got amazing.
That promotion did what the earlier advertising could not. Q Island has taken off like it should have, the ignition on the engines finally lit. It is finding an audience in sales, as well as on Kindle Unlimited, and the audience is worldwide, moving pages in the UK, Australia, Canada, and India. Wow. Reviews are kicking in on Amazon and Goodreads, and they are excellent.
So to authors, never give up on something you've written. Even years later, the audience may find it.
To all the new readers, thank you for giving Q Island a try. All the reviews, social media support, and personal messages are really appreciated.
If you enjoyed your stay on Q Island, there's more where that came from. Keep an eye out for Return to Q Island later this year. Millions long to leave, but one man stranded in Connecticut must go back to save his mother and pregnant sister. In the year since the first book, Q Island has gotten worse.
Much worse.