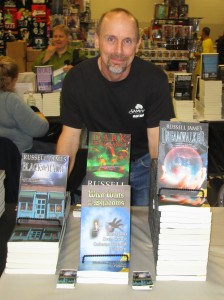 You've seen ads for them. You've attended them. But now, as an author, you want sell at them. Conventions. Dragon Con. MegaCon. World Horror Con. Walker Stalker. The list goes on and on. Should you do it?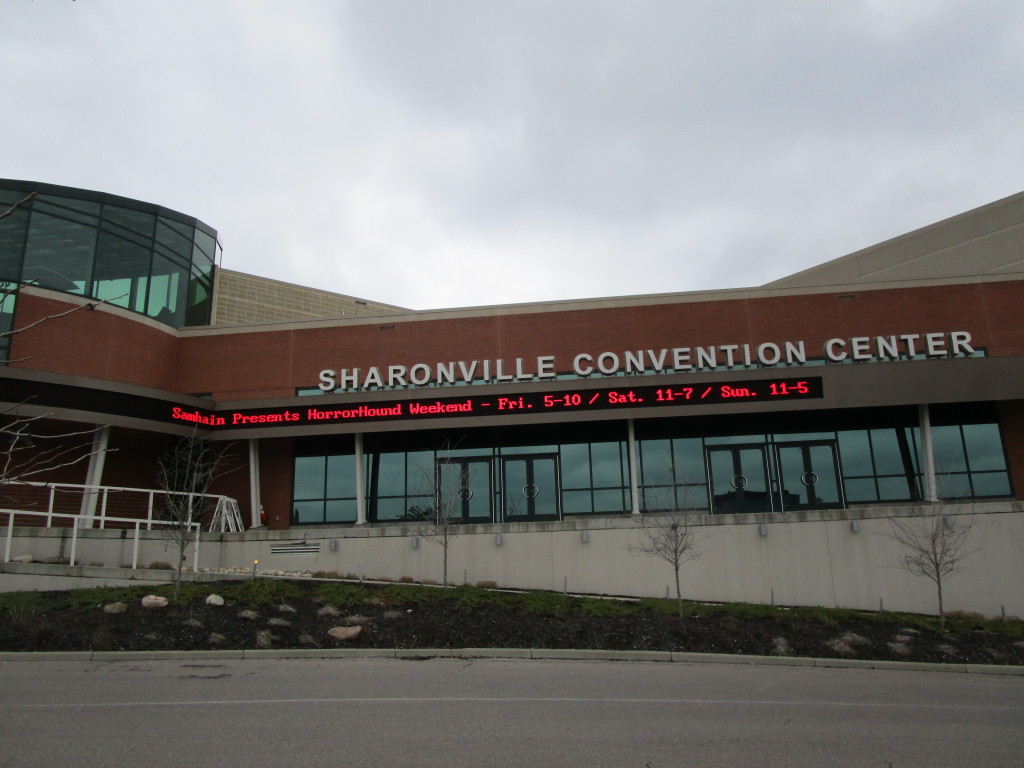 I'm going to try and get you past the wonderful image of you sitting at a booth while a never-ending line of people await the chance to purchase a signed copy of your latest horror masterpiece, Graveyard of the Damned. There are a lot of real world things to consider before you embark on this adventure in personal retail sales. Let's talk about them.
First, I've done a number of cons, some several times. Horrorfind, HorrorHound, Scares that Care, World Horror, MegaCon. I've even done the Los Angeles Times Festival of Books and the Tampa Bay Times Festival of Reading, among others. There are plenty of people who've done more, but I can certainly give you good food for thought. Since last time I checked Dean Koontz and Jonathan Mayberry are not reading my blog posts, I'm assuming you are a newer author and this would be your first experience.
Realize that there are two kinds of cons: professional cons and fan cons. Professional cons are populated by authors, agents, publishers, and other professionals. You attend these to network, learn something at panel discussions, maybe attend a pitch session. Attendance is measured in the low hundreds.You don't go there to sell books. Everyone there is a writer, so everyone there is poor. Buying a book from an unknown like you will be a big decision for them.
Fan cons are where people spend money. They are there to buy T-shirts, toys, autographed pictures, and cool handcrafted stuff. They just might add books to that list. Your books. And that is your dream. The con might even be centered around books. Attendance can soar to over 100,000 People at fan cons have a spending budget when they walk in the door. Buying a book from unknown like you is an easier decision.
So since your goal is to expand your fan base, you are going to a fan con.
If your publisher is sponsoring it, providing the booth, the books, and the sales staff, then going is a no-brainer. Do you want to fork over the money to get to Buttonwillow, CA and spend two nights at the Motel Six to attend the SuperSlasherFest? Yes you do, because you'll never do a con cheaper or with less work involved, and you want to support your publisher since they support you.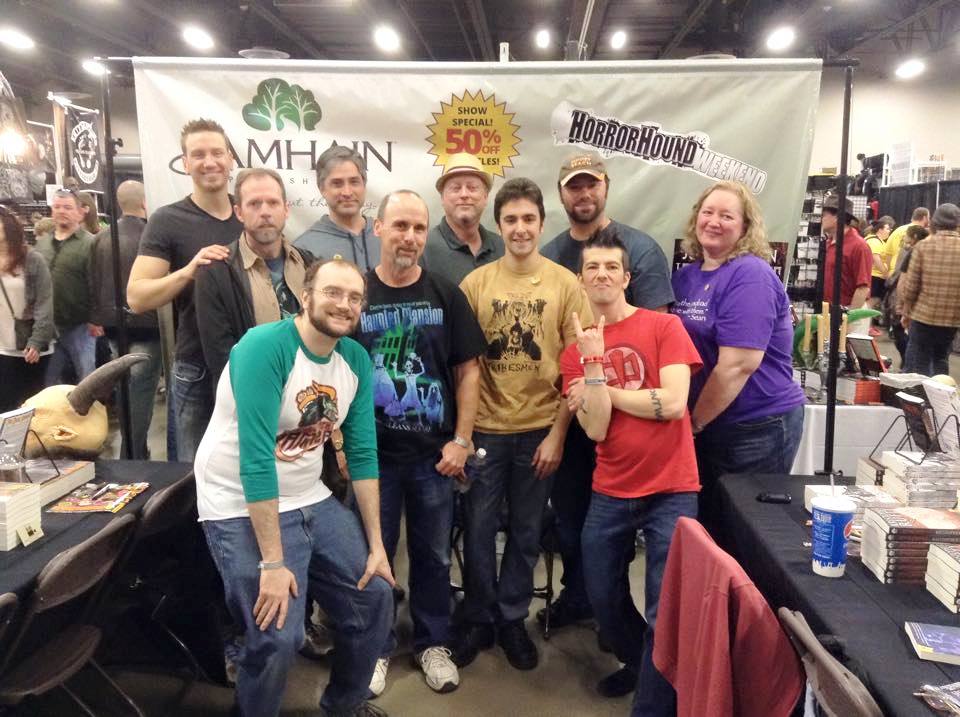 Multiple authors at a sponsored Samhain Horror booth. Loads of space, loads of books, great banners. The guy in the Haunted Mansion shirt obviously snuck in the back door.
But that sponsored opportunity probably isn't going to happen. So let's talk about the entrepreneurial route you will take instead to set up at SuperSlasherFest.
There are a bunch of things you will need ahead of time:
How many? We'll get to that in a later post.
Table coverings. Check with the con. Some provide a bare table. Some provide one with a skirt and a tablecloth. If none is provided, the tablecloth from your dining room won't be the right size, unless you eat off an eight-foot cafeteria tale. You need to buy one, and not the disposable plastic type used at kids' birthday parties. You need something that says your books are as good as fine china.
Display/Signage. You need something to draw people to your table. A banner, a poster, a severed human head, preferably artificial. But you, sitting alone behind a pile of books at a table with no advertising will look creepy enough to repel people, even at a horror con. Cons like PensaCon even use your display quality as a gauge for whether they let you in. Places like Vistaprint have a wide variety of signage available at reasonable prices.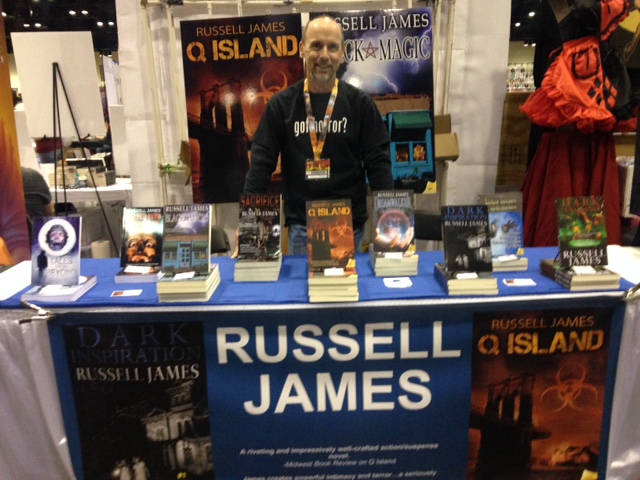 An example of a table banner and background posters at one con.
Part of your display includes setting up the books. You want them standing up, grabbing attention like tombstones in a graveyard (since you are going to SuperSlasherFest.)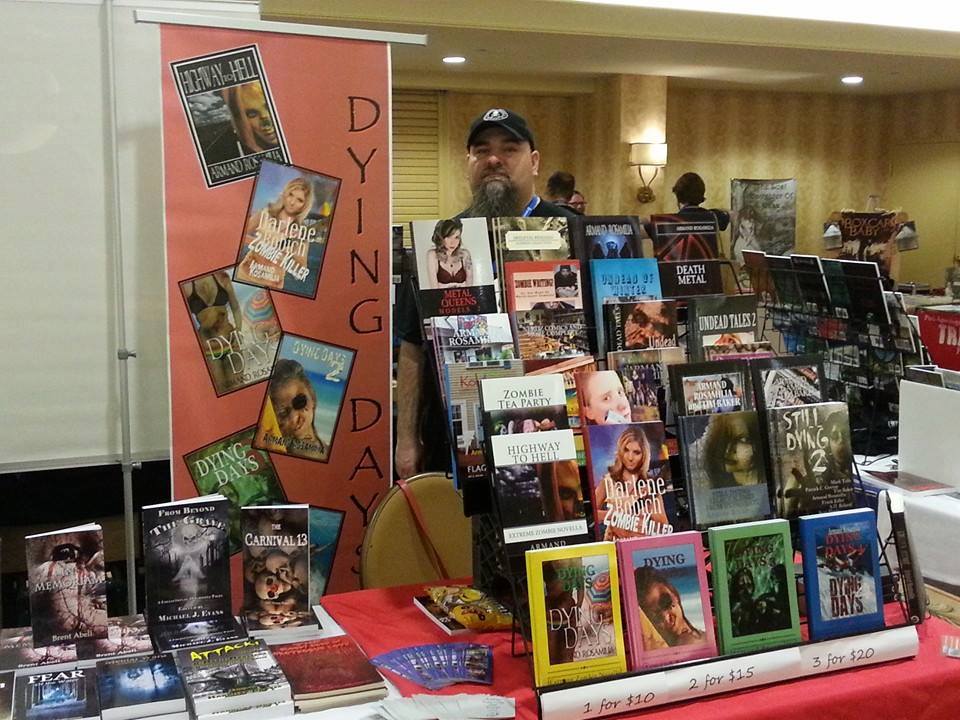 The  prolific Armand Rosamillia and one of his con setups, an excellent combo of signage and a stacked book display that showcases all his titles at eye-level.
Business cards. Because even people who don't buy should walk away with a way to remember your name. Again, places like Vistaprint will make these for you inexpensively. Design is everything when it comes to business cards so don't just slap one together.
Free stuff. Bookmarks, pens, pencils, something with your name and book on it to hand out to passersby and lure them into your web for the kill. We'll talk later about how to give stuff away.
Now stop right here and do some math. You will have to invest hundreds of dollars before you even apply to a con. You may reap some of that investment back when you sell your inventory, and a banner can make the rounds at several cons, but you will still be out of pocket something before you even begin.
If the thought of that scares you off, this isn't the thing for you. You can't skimp on any of this and expect to have a successful con experience. If you've got the cash set aside and have steeled yourself for this investment, if you are still clinging to the image of you attended by legions of fans, then you are ready to dig a bit deeper. In the next post, we'll do some more math and see how rich a con will make you. Or won't.